Boom Trucks Crane Hire Service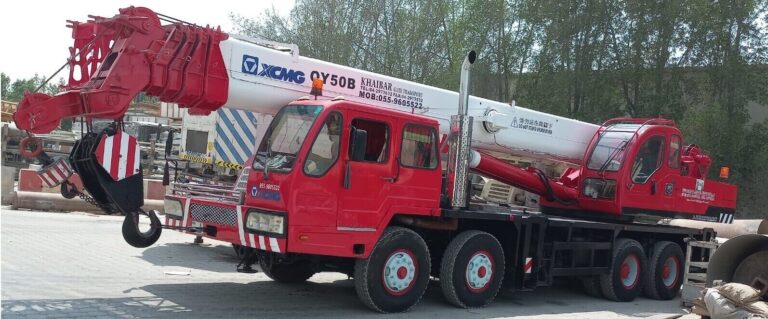 Boom crane is a type of heavy mobile crane designed to lift loads, handle and deliver material and conduct work at the boom tip through a variety of attachments.
Boom lifts are best suitable solution for working in narrow space which has limited access. One main benefit of the boom lift is that it can gave you greater access to the horizontal region where other types of machines can't gave you access for working
Also referred to as telescopic boom crane, these trucks consist of a telescopic arm and usually work as typical cranes to lift and move heavy objects.
Lifting Capacity
Boom truck telescopic arm enables the device to lift loads of between 10 and 90 tonnes.
The telescopic boom truck is irreplaceable. Many fields and industries will be at a loss without this incredibly versatile piece of construction equipment. If you are in need of a boom cane truck, Hire  from  none other than Khaibar gate land general transport. We provide high quality lifting equipment. Get in touch with us today!
Hiab trucks mobile crane rental dubai
Hiab crane rental company in dubai offers trucks with lifting equipment. Cherry picker cranes are also available for rent. Hiab trucks Rental Dubai
Crane Logistic Rentals Services Dubai
Boom Crane Heavy Mobile Equipment
Telescopic boom trucks enhances the lifting capabilities. It also ease work  by allowing  very smooth and direct movement.   The working on telescopic hydraulic truck cranes offers around the same as with knuckle hydraulic truck.
Telescopic boom lift can be a significant advantage on several projects especially construction projects. Using  telescopic boom lifts on construction site and moving heavy cargo shipments, you can avoid unnecessary accidents and injuries.These hydraulic lift truck will also ensure the work remains efficient with reduced risk for operational challenges or breakdowns.
Crane rental costs vary based on many factors, so the only way to get an accurate price is to request a quote. Because there are different type  of cranes with different features and specifications. 
Looking for an economical boom crane trucks rental near you. We are here to help you. Give us a call Today tel:050 655 2329
We are providing assistance across different cities of United Arab Emirates including Dubai, Ajman, Abu dhabi and Sharjah.
We can help you find the perfect solution for your job.If you would like more information on the types of telescopic hydraulic truck & boom lifts available, the experts at Khaibar gate land general transport Limited can help. We have a full line of boom trucks ranging from 12 to 30 Ton, with the capability of taking loads up to 20′ long.
Boom Crane Rental Near Me
One of the best boom trucks and boom cranes lease services company  in dubai. hiab service locations near me crane hire services
we made crane delivery at construction site easy with one call