Streamline Your Sewage Management with Our Reliable Sewerage Water Tanker Rentals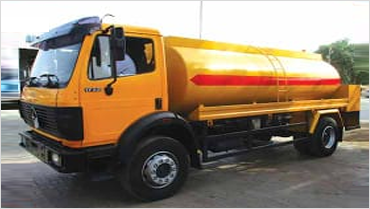 Rent Sewerage Water Carrier Truck Tankers in Dubai and Experience Seamless Operations
At Khaibar Gate Lannd General Transport, we understand the critical role of efficient sewerage water management in maintaining the smooth operation of construction sites, events, and municipal projects. We are here to provide you with top-of-the-line Sewerage Water Tanker rental services in Dubai that will meet your specific needs and surpass your expectations.
Rent Reliable Sewerage Tankers in Dubai
Khaibar gate land general transport is your trusted provider of high-quality sewerage tanker rental services in Dubai. Whether you're a construction company, municipality, or event organizer, we have the perfect solution to meet your sewage disposal needs. Our top-of-the-line tankers and professional team ensure efficient and hassle-free operations, enabling you to focus on your core business activities.
Hire Sewerage Tanker 5,000 Gallon
Contact us today to discuss your Sewerage Water Tanker rental needs and receive a personalized quote
With our online services available in the Dubai, Ajman and Abu Dhabi, Khaibar Transport property transport items and administrations furnish a ground cargo sending network with inventive, assisted start to finish inventory network arrangements associating the Dubai, Sharjah Abu Dhabi and other parts of United Arab Emirates. As a resource based organization, we give your business the broad and high thickness network it needs. Our ISO endorsed transporters and specialist organizations guarantee fast and dependable conveyance to all significant objections across the landmass. Get the contact you need to remain in front of the opposition with our scope of value land transport arrangements.
Whether you need door-to-door forwarding services by road, rail, or both, our land shipping solutions will get your shipments from everywhere to anywhere in United Arab Emirates.
Extensive Fleet of Modern Tankers: We boast a diverse range of modern and well-maintained Sewerage Water Tankers. Our fleet includes various capacities, from compact tankers for small-scale projects to heavy-duty tankers for large-scale operations. We have the right equipment to handle any volume of sewage, ensuring your project stays on track.
Unmatched Reliability and Performance: When you rent our Sewerage Water Tankers, you can trust in their reliability and exceptional performance. Our tankers undergo rigorous maintenance and inspection to ensure they are always in optimal condition. We prioritize reliability, so you can focus on your core activities without worrying about sewage management issues.
Trained Professionals: Our team of experienced and skilled operators is well-versed in handling Sewerage Water Tankers efficiently and safely. They are trained to handle complex situations and adhere to the highest safety standards, ensuring smooth operations and minimizing any potential disruptions.
Timely and Flexible Service: We understand the importance of time in your projects. That's why we offer prompt and flexible service to meet your specific requirements. Whether you need a Sewerage Water Tanker for a day, a week, or an extended period, we can tailor our rental packages to fit your project timeline, ensuring seamless operations throughout.
Cost-Effective Solution: By choosing our Sewerage Water Tanker rental services, you can significantly reduce your expenses. Instead of investing in purchasing and maintaining expensive equipment, you can rely on our cost-effective rental options. This allows you to allocate your resources more efficiently and maximize your project's profitability.
Disruptive forces such as new technology and system
Disruptive forces such as new technology and system
Disruptive forces such as new technology and system
Khaibar Transport offers a wide range of boom truck cranes with lifting capacities ranging from 8 tons to 18 tons. We also offer HIAB cranes boom trucks and cranes for rent in Dubai, with lifting capacities ranging from 2 tons to 30 tons."
"Our worth added administrations guarantee the progression of products proceeds consistently and supply chains stay lean and streamlined for progress.." - Khaibar Transport
Security from Start to Finish
Reliable Performance: Our tankers are meticulously maintained to ensure optimum performance and reliability. We understand the importance of timely sewage disposal, and our well-maintained vehicles are ready to tackle any task, ensuring uninterrupted operations for your project.
Trained Operators: Our skilled and experienced operators are well-versed in the operation of sewerage tankers. They adhere to the highest safety standards and possess in-depth knowledge of local regulations, ensuring that your sewage disposal is carried out efficiently and in compliance with all necessary guidelines.
Prompt and Flexible Service: We understand that time is of the essence in your projects. That's why we prioritize prompt service delivery, ensuring that our tankers are dispatched to your location as soon as you need them. We also offer flexible rental terms to accommodate your project's unique timeline and budget.
Have Any Query? Talk to our representative for more information
Boom Trucks with Cranes
Looking for an economical boom crane trucks rental near you.Boom trucks are also available for rent. Cherry picker cranes are also available for rent. Boom Crane Trucks Hire Service